Here the list of Top Best Blackberry Phones Must Have you can find. RIM has repeatedly been producing mobile phones that have served people especially businessmen very well .The blackberry is a brilliant device for all those who are frequently on the move and need to stay in constant contact with business or work related information. RIM's one of the fastest growing companies in the world, and a new model always seems to be just around the corner. Want to know which one of these push email mobile powerhouses you should pick up? Our Top Best BlackBerry Phones Must Have will tell you.
Blackberry Torch 9800:
The first blackberry phone that comes equipped with a touchscreen that is highly responsive . Not only this the handset also has a QWERTY keyboard which is a blackberry trademark for no blackberry mobile phone comes without it . The torch also has a new and improved web browser which facilitates the usage of the Internet on ones phone. Read Full Review here.
---
Blackberry Style 9670 :
This phone is not as chic as the name implies , however it isn't that bad either . Not only does it have a huge touch screen it also has a number of other great features. You wont be disappointed to invest in the Blackberry Style 9670. Read Full Review here.
---
Blackberry Bold 9700 :
Can easily be termed as the champion when one talks about blackberry devices. This phone is particularly captivating and appealing to the eye. It has a great display and connectivity with the phone is very easy. All in all its a great device at an affordable price. Read Full Review here.
---
Blackberry Tour 9630 :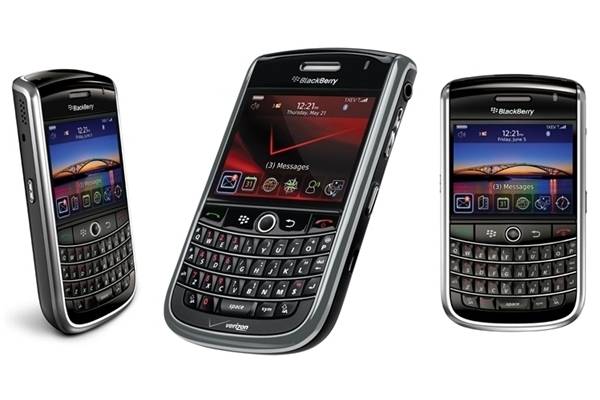 The blackberry tour 9630 comes with an awesome display and innumerable other features that are absolutely great . The only negative aspect of the phone is that it does not have Wi Fi which can be very annoying for those who like being logged on to the net at all times. Read Full Review here.
---
Blackberry Curve 3G :
These blackberry devices have been in function since quite some time now and  have gained immense popularity. They come equipped with a number of great characteristics at an affordable price so most people are able to buy them. Read Full Review here.
Blackberry Curve 8900 :
Yet another awe inspiring creation by RIM . It works brilliantly and has the best screen a phone has ever had. Not only this the phone also has a number of other impressive features. Read Full Review here.
---
Blackberry Storm2 9550 :
This blackberry was launched almost in the initial phases of Blackberry devices but it wasn't amongst the first ones. The ones that were produced right in the beginning were not so well equipped and received their fair share of criticism that RIM took notice of . Thus the Blackberry Storm2 9550 is a device that was produced keeping all the flaws of the first handsets in mind. Read Full Review here.
---
No matter which of the several varieties of BlackBerry you choose to obtain, all will hold different features and options. Within those features and options will then hold the opportunity for purchasing accessories that may make your life more efficient. It is always best to determine which options you will or may need before purchasing a BlackBerry. Then go to your local or online shop to choose the best fit to you and your needs.

We really appreciate with what you thought 'bout Top Best BlackBerry Phone Must Have by comment at post below.